Emini trading
(Why emini daytrading is so popular)
What are E-Minis ?
An emini is an electronically traded futures contract that trades as a fraction of the of full size contracts.
emini contracts are now available on a range of products including Indexes, metals, forex and commodities.
They trade more or less 24 hrs per day and have exceptional volume. The e-mini S&P daily volume is in excess of 2 million contracts per day and it is the world's most actively traded stock index futures contract with well over $100 billion of contracts traded every day. It is a highly liquid market so entry and exit costs (spread) are exceptionally tight. Typically during the day session the spread is just a single tick ($12.50) per contract worth around $100,000. This very tight spread is a huge advantage to emini daytraders. The exceptional liquidity means that traders can often be filled on orders of hundreds of contracts with zero slippage.
Each contract is valued at a certain number of Dollars per point of the underlying contract. The emini S&P 500 contract, for instance, is valued at $50 per point so with the index standing at say 2,000 points the contract is valued at $100,000.
The deposit that you have to lodge with the Broker in order to trade these contracts is known as "margin" and varies from instrument to instrument. Typical day trade margin for the e-mini S&P can be as low as $1,250 per contract. This offers traders leverage of close to 80:1 at current index levels !
In other words if you were to trade one contract on minimum margin (a deposit of $1,250) and the index moves by a very average 1% in your favour during the day then your profit would be (2,000 * 1%) = 20 points at $50 per point = $1,000. This represents a massive 80% return on your account in a single day. These sorts of moves are not at all unusual. emini day traders require volatility and the emini index contracts (plus Gold and a few others) fit this bill nicely.
The relatively small contract value, low margin , high volume, near 24 hr trading and complete transparency has made the emini contracts exceptionally popular with both private and institutional traders.
How do the winners trade the emini contracts ?
The professional trader automated trading course teaches you how to trade these instruments using fully automated trading systems that require the trader to make no discretionary judgments at all. Once enabled automated trading systems with make all decisions and will enter and exit all trades for you.
Over 90% of emini index volume is now traded using these systematic methods which offer both private and institutional traders massive advantages over discretionary methods.
The fully automated system on the left is an emini S&P reversion to the mean system which has made over $80,000 trading just a single contract (no compounding) since January 2008 with a near 80% win/loss ratio. This exact system is available for sale right now.
Automated trading systems not only allow the emini trader to trade systems nearly 24 hrs per day unattended but far more importantly we can quantify and examine historical performance of these evidence based systems in detail in order to gain a great deal more insight into likely future performance.
Having this historical performance data available also allows us to "tune" our money management and position sizing rules far more precisely to each system than would ever be possible with discretionary trading techniques.
Position sizing with emini contracts
Because emini contracts have very low margin requirements and are themselves relatively "small" contracts this allows us to rapidly increase position sizes and compound up returns much faster than if we were trading the full size contracts.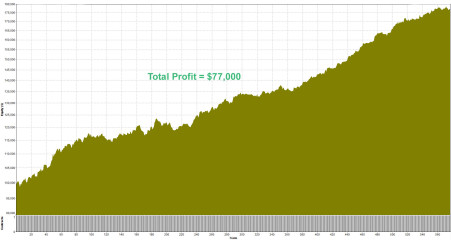 This is especially the case for the automated emini day trader who is able to place many orders in a day with out having to be constantly monitoring the trading screens.
The correct use of position sizing and frequency of trade has a truly dramatic effect on the speed with which you can compound up you trading account.
The RV4 emini daytrading system opposite has made a very acceptable $77,000 since January 2008 trading just a single contract.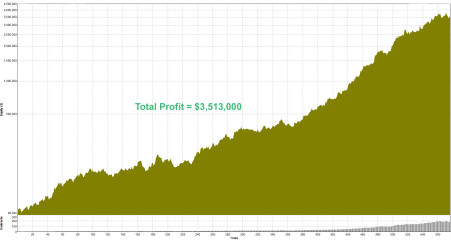 If you now apply one of the simple position sizing methods taught on the automated trading course then the results over exactly the same period trading exactly the same system rocket to over $3,000,000.
That difference has nothing to do with the systems and everything to do with the position sizing and the ease with which emini contracts can be rapidly compounded.
The super aggressive position sizing method that is also taught on the course would have produced results closer to $10,000,000 over the same period.
E mini S&P 500 can be traded with just a single chart and very simple trading rules
Due to the huge volume and great variety of participants trading these markets the emini S&P tends to trade very technically. Hence automated trading systems that use very simple technical analyses methods work very well indeed on these markets. Trends are often relatively smooth with regular pullbacks and because of the market depth It is almost impossible to manipulate the market to any degree that would affect home based traders.
It is therefore perfectly feasible to emini day trade from one screen with just a single chart displayed using a trading systems with just few and very simple rules. Gone are the days of having to constantly monitor multiple trading screens. gary, delete link after testing seo
The rules for all of the ProTrader systems could easily be written on the back of a postcard and often include just a few lines of very simple simple rules and trading instructions for the system to follow. All of our systems are open code and the rules are simple and easily understood
Small contract size and large choice of available markets allows home based traders to diversify like the larger funds.
The stock indexes are by far the most popular contracts to trade using eminis however the range of available instruments is expanding all of the time and currently includes metals such as Gold, Silver and Copper, most major forex pairs, Agricultural instruments such as Corn, Wheat and Soybeans, Energies such as Crude Oil, Gas and Gasoline. So the breadth of choice is very significant and allows us to trade a variety of markets to create low cost mini portfolios which was previously the domain of much larger private or institutional traders.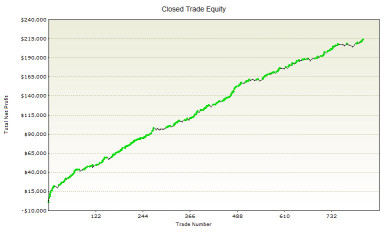 Trading small portfolios of different emini instruments allows us to quickly and easily reap the many benefits of portfolio diversification.
Diversification helps to smooth the equity curve and allows to trade with less risk or larger size or greater effective frequency all of which are critical to the compounding process.
(Please note that the systems shown above are the actual Emini trading systems used to make the tens of thousands of Dollars in profits shown on our real money trading statements enclosed with each information pack – this stuff works !)
Ask for further information and course details – find out more !